In high school, my brother's girlfriend Lala was like the older sister I never had, never knew I wanted, but was so happy to find.
As we've grown our relationship has changed. Big sister/little sister. Peers. Best Friends. And sometimes something resembling employer/employee (I say that lovingly, of course). However, the one dynamic that hasn't changed is the eater/feeder status.
I bake. Lala eats.
Years ago for her birthday, I brought her a huge Sweet Potato Cake from the bakery where I worked. Late into the evening, we sat at her kitchen table plunging our forks deep into this behemoth. We ate, we laughed and we ate some more. We munched so much that we had to crawl on all fours to her living room where we laid on the couch rubbing our bloated bellies.
I remember feeling warm and fuzzy in a way that only best friends and cake can accomplish.
Happy to be with Lala and share a slice (a couple of slices) of nicely spiced cake with velvety cream cheese frosting.
I hope you'll make some for the Lala in your life too.
I know that you know that you need to measure out all your ingredients.
Cream together brown sugar and butter. Add eggs one at a time. Add vanilla.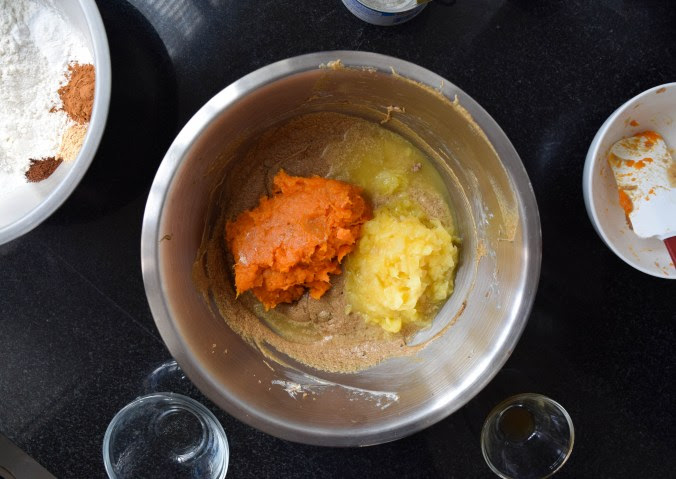 Add mashed sweet potato and crushed pineapple with juice.
Stir in dry ingredients.
Place in a 9×13 inch cake pan that has been greased and lined with parchment.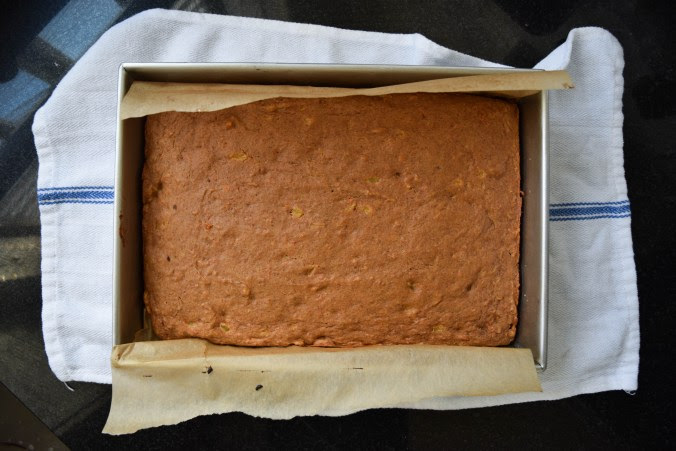 Bake at 350°F for 30 – 35 minutes until lightly browned around the edges and a toothpick comes out clean. Let the cake cool completely.
While the cake cools, make the frosting. Cream butter and cream cheese. Add powdered sugar. Add vanilla. Blend with a hand mixer or stand mixer until smooth.
Spread cream cheese frosting over cooled cake.
Decorate with pecans.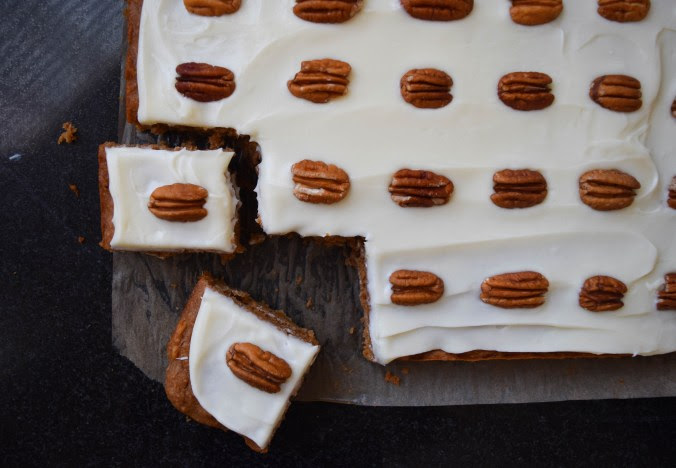 Eat!
Lala's Sweet Potato Cake
Ingredients:
1 1/2 cups of mashed sweet potatoes (about 2 large)*
2 cups of all purpose flour
1 teaspoon of baking soda
1 teaspoon of cream of tartar
1 rounded teaspoon of cinnamon
1/4 teaspoon of ground ginger
1/4 teaspoon of ground cloves
1 teaspoon of salt
1 stick of butter, at room temperature
1 cup of dark brown sugar, packed
1 teaspoon of vanilla
2 large eggs
1 (8oz) can of crushed pineapple
Cream Cheese Frosting:
1 stick of unsalted butter, room temperature
1 (8 oz) block of cream cheese, room temperature
4 cups of confectioner's sugar, sifted
1 teaspoon of vanilla
Directions:
Preheat your oven to 350°F and grease a 9×13 inch baking dish. Line the dish with parchment and grease the parchment.
Whisk the flour, baking soda, cream of tartar, cinnamon, ginger, cloves, and salt together in a medium sized bowl. Set aside.
In a large bowl, beat the butter and brown sugar until light and fluffy.
Add the eggs one at a time.
Add the vanilla.
Add the mashed sweet potatoes* and pineapple with juice and beat with a hand mixer until combined.
Mix in the dry mixture until just combined.
Pour into the 9×13 inch baking dish.
Place in the preheated oven.
Bake for 35 – 40 minutes until browned around the edges and a toothpick comes out clean when inserted. Allow to cool completely before frosting.
While the cake is cooling, make the icing.
Frost the cake and decorate as you desire! I used pecans for natural flare!
Notes –
To make the sweet potatoes, wash and dry your potatoes, leaving the skin on. Prick them with a fork and microwave for 10 minutes, rotating them at the five minute mark. Scrape the meat out of the skins and mash it with a fork. Measure out 1 1/2 cups and allow to cool. You may have extra (eat it).